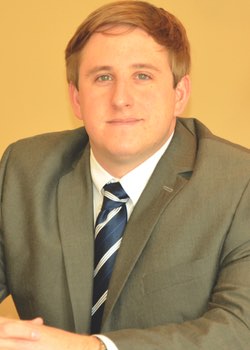 Alexander G. Hall
Phone:  (843) 377-8415
Fax:       (843) 377-8419
Alexander G. Hall is from Summerville, South Carolina and joined The Tiencken Law Firm, LLC in 2013.  His areas of practice include utility, environmental, property, and corporate law. Alexander graduated from The Citadel in 2009 with a Bachelor of Science in Business Administration with a concentration in Accounting.  He graduated from the Charleston School of Law in 2012 where he received his Juris Doctorate.
During law school, Alexander received the CALI award in Legal Writing.  He served as the President of the Business Law Society and the Events Chair for the Phi Delta Phi Legal Fraternity. Alexander interned for U.S. Magistrate Court Judge Bristow Marchant and the General Counsel's Office of the South Carolina Department of Health and Environmental Control, Office of Ocean and Coastal Resource Management.  In addition, he also worked as a clerk at the Knight Law Firm and the First Circuit Solicitor's Office.
After law school Alexander attended The Citadel's Graduate College where he earned a Masters of Business Administration and graduated with honors in 2014.  During his time at The Citadel's Graduate College, Alexander was inducted into the Phi Kappa Phi Honors Fraternity and also worked as a consultant for the South Carolina Small Business Development Center.
Alexander is a member of the South Carolina Bar Association and the Berkeley County Bar Association.  He resides in Mount Pleasant with his Boykin Spaniel, Belle Ann.  When not zealously representing clients, Alexander enjoys traveling, being outdoors, living the coastal life and watching football.
Notable transactional work:
•Large commercial/industrial property acquisitions.
•The purchase and sale of renewable facilities, including hydro, biomass and solar facilities. 
•Involved with structuring numerous statewide economic development deals and contracts.
•The acquisition of ROW easements and electric utility facilities.
•Drafting and negotiating commercial leases.
•Negotiated Electric Service Agreements between electric utilities and their industrial customers.
•Involved with numerous enacted pieces of state legislation concerning South Carolina's electric providers.